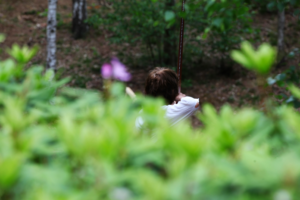 A while ago I was invited to participate in a research project about the effectiveness of coaching. The researcher, Tünde Erdösz, does her PhD at Ashridge. Quite sound.
And, bonus, she was willing to look at the effectiveness of Coaching with archery.
A rough outline of the research:
The coaching conversation is recorded on video. A computer program then analyses the physical interaction of the coach and coachee. That is an indication of their rapport. After the conversation the coachee fills in a questionnaire.
The computer could not analyse the first video that I sent. And thus coaching with archery was taken out of the research. But, Tünde was nice enough to send me a piece of the video analysis:
At first it reminded me of the hallucinatory ultrasound videos that enthusiastic parents to be like to share.
Vaguely my shooting area emerged. Then the screen was filled with two figures from a Ghostbuster movie.
This would freeze any computer program instantly.
The clip also reminded me what is really helpful in coaching with archery and coach walks: the forest.
The trees seem to vibrate continuously. With tiny little movements. You perceive that subconsciously, and it keeps your body aware that you are in a natural forest. It's soothing and promotes self regulation. The Japanese don't need convincing anymore, and call it shinrin-yoku, forest bathing.
A regulated autonomous nervous system is more capable of reflection and curiosity: main ingredients for good coaching.
Tünde's research will probably prove that a coach with great rapport skills is effective.
I suspect such a coach is way more effective in a forest.